Testimonials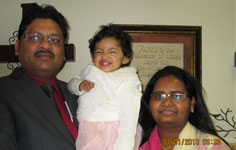 We started attending FIBC for about two years. FIBC has the most wonderful awesome worship service. Every Sunday is an exciting Sunday, where the presence of the Holy Spirit is very obvious. Ever since we started attending FIBC we have experienced and received a lot of spiritual blessings. The best decision we have ever made was to become FIBC members. The messages are very inspirational and uplifting which stirs up our heart. Also, Pastor Avinash Raiborde teaches bible based contemporary issues that are going on with the country Israel and rest of the world.



Hema and Dilip Kumar
My husband and I come from a non Christian background worshipping idols for 30 years. One day we came across First India Baptist Church. Pastor Avinash and Pastor Pranoti have been a great blessing in our lives, supporting us with their love and prayer always. They ministered to us for about 9 years before we came to the saving grace of Jesus Christ. This Church has helped us grow spiritually. We have found the real peace through this Church. We have been going to this Church for the past 20 years now and it is as powerful as it was when we first visited. There is a power in praise and worship in this Church. We are blessed and touched each day. Pastor Avinash is an anointed Pastor and we are so happy to be a part of this Church.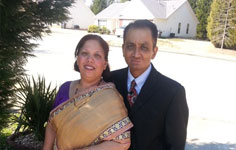 TESTIMONY OF AARON CHRISTIAN AND FAMILY
We were searching for a good Church in Atlanta and the Lord directed us to come to First India Baptist Church through a divine appointment. I grew up in a Christian family but my wife, however, was from a Non Christian background. As we started going to FIBC, we started growing spiritually in the Word under the Leadership of Rev. Avinash Raiborde

Our desire to get filled with the Baptism of the Holy Spirit was fulfilled in this Church and we were mentored by our Pastor in many tough situations. I received divine healing from oral cancer through the prayers of Pastor and the Church. God brought my family closer, by His love and through the Word, as we began to apply what was ministered and taught to us in the Church.

My wife, me and my children received many miracles and healing in our lives at FIBC. About a year ago, my wife's family, including her mother, father, her youngest brother and his wife, began to come to our Church. Pastor Avinash prophesied in one of the fasting prayer meeting's that my wife's family will come to know the saving grace of our God. Little did we know that after a couple of months, this prophecy given by the man of God came to pass and all of them have accepted Jesus as their personal Saviour and received baptism as well.

My youngest daughter has also received Jesus and been baptized here. The Lord has blessed my whole family and extended family as well, while we regularly attend FIBC Church and are receiving many of God's blessings.

The Lord has called us to be intercessors for the Church and our daughters are blessed and continue to be active in Church activities.

AS FOR ME AND MY HOUSE WE WILL SERVE THE LORD
JOSHUA 24:15.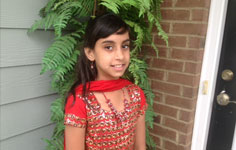 I have been a part of this Church since I was a little baby. I am blessed by the Sunday school teaching here at FIBC.

It is helping me and making me an instrument to rise and shine for God's glory. I am so blessed and grateful that I am a part of First India Baptist Church.
Shifa Roy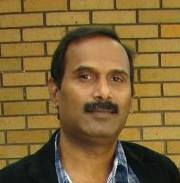 TESTIMONY OF BROTHER EMMANUEL DAMERA
My name is Emmanuel Damera. After going to various churches for Sunday worship for nearly two years, the Lord miraculously guided us to First India Baptist Church and we truly felt it was God's divine plan for us to be here.

People think that when you are in America, you are one step away from Heaven but that is not true. You are left alone, people are busy and nobody has time or cares for you in USA . Living in USA is like living on a battle ground for Christians in their day to day lives. We truly need God or we will be lost here.

My family and me witnessed something spectacular at FIBC in our lives. The support of our Pastor Avinash and the Church is a great blessing to our spiritual life. Pastor being a true man of God and through his prayer's, we experienced many blessings and miracles in our lives.

In 2010, I lost my job due to the loss of company contract and my company asked me to move to a different state for a job. I shared the information with Pastor and his wife who is a mighty woman of prayer. Then Pastor prophesied that "Brother you are not going to leave Atlanta. God will not allow you to leave Atlanta and this Church. You will definitely get a Job in this part of Atlanta".

God fulfilled his prophesy and I got a job in Atlanta itself!! That's how God was performing so many miracles in our lives through the Church and Pastor.

In 2010, my dear wife fell sick and was diagnosed with Leukemia at the age of 40. This was very hard for us to take as a family but Pastor and the Church gave me so much support that we could survive the trauma. Pastor's family was their every time we needed them. His anointed prayer support strengthened us so much and thereby my wife was able to go through that tough situation . In November 2011, my wife's condition deteriorated so bad that Doctors in the Hospital gave up their hopes and asked us to take my wife home saying that, "we cannot treat her further in spite of medication and she will die within few days". Then Pastor and the Church prayed very fervently for my wife and God graciously extended her life for 8 more months and those months were so precious to my wife as God was preparing and strengthening her to meet the Lord. In 2012, my wife went to be with the Lord. Pastor and his wife were regularly counselling us as a family and stood with us in the most toughest hours of our lives.

No matter what the situation was, I never missed a Sunday Worship service, in spite of my wife's sickness and being hospitalized. When you honor the Lord He will honor you! I received a bill of $380,000 for my wife's medication and an extra $50,000 for inpatient charges but it's a great miracle that God took care of all those financial burdens and the bill was written off !!!

I really thank God for his marvellous ways and my Pastor who was fervently praying for this special need. Likewise I have witnessed so many miracles in my job situation, children's education and personal life through this Church and the Pastoral ministry.

Every year at the end of the academic year I used to lose my job due to contract budget constraints of the county. God was so gracious towards me that he never let me down and always provided me a better job. This was all possible because of our Lord and through the investment of Pastor's prayer, time, support and above all his spiritual covering to me and my family.

I am blessed so much through this Church and through the Ministry of Pastor Avinash.

May God bless him abundantly and his ministry and use him mightily for the extension of God's kingdom. Amen

In his Kingdom
Brother Emmanuel Damera